Instagram remains one of the fastest-growing social media platforms in the world. As of [Insert stats about the monthly users]. What this means for you is that there are enough people to promote your event to.
In this article, you will learn how to successfully promote an event on Instagram.
As with any event, you need to make arrangements before the event starts, during the event, and after the event. You will learn how to do all of this using Instagram.
This article is under 3 main subheadings that signify the different phases of any event – before the event, during the event, and after the event.
First we'll look at how to successfully promote an event on Instagram before the event starts.
BEFORE THE EVENT
Just like an airplane gathers momentum on the runway before it lifts off, so too do you need to make preparations for your event if you ever want it to take off. In the case of an event, the runway phase means promotion.
So how do you promote your event on Instagram?
Use Hashtags
Hashtags are one of the easiest and fastest ways to find content around a topic. When promoting an event, you will need to create hashtags that are specific to your event. You can use these hashtags alongside posts that are related to your event.
To create more awareness, you can encourage your followers or audience to use the same hashtags too. As you know, you can use hashtags on your Instagram stories too.
When choosing hashtags, make sure that they are not be generic like #Love. Generic hashtags litter Instagram, which would make it easy for your post to go unnoticed.
The best practice is for you to create branded hashtags that are clearly related to your business and event.
Use Instagram Stories
You are wrong if you think that your Instagram stories are not useful because they last for only 24 hours. It is this very short nature that allows you to pique interest and curiosity around your event.
Your audience knows that the stories will disappear after 24 hours. Therefore they will rush to your profile to check out what you have to say about the event. You can use the stories to answer questions about the event, and even give sneak peeks and behind-the-scenes coverage that will excite your audience.
Post about the event on your feed
Another fantastic way of making sure people know about your event is to post about it on your feed. But that is not to say that you should bombard your followers with posts about the event. You will scare them away if you bombard them with too much content over a short time.
Here is what you should do instead.
Answer questions about the event. Make the post about the audience you are trying to attract. Yes, while it is your event, you will not get anywhere if only you and your crew attend it, will you?
So tune in to your audience favorite radio station WIIFM otherwise known as "What Is In It For Me". Listen to them and note the questions they might have. Then go on to counter their objections and answer their questions in your posts.
Aside from educating your audience about the event, you also need to make them see what they will be missing out if they do not attend.
If it is a physical event, you need to use Geo-tags to let people know where the event will hold. Don't forget to include it in your bio too.
You might not need all of this if your event is online, but you do need to include the time and video conferencing tool you will use.
Host a giveaway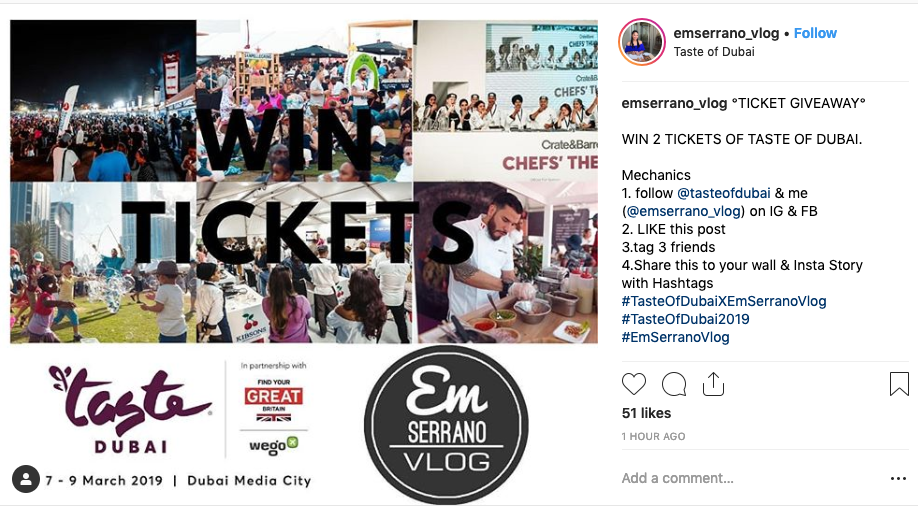 You can create more awareness and buzz around your event by hosting a giveaway. It could be that you are giving away tickets to the events or free gifts to the winners of the giveaway. 
For your event, the best action you can ask your audience to make is to share your post or tag their friends for them to win.
Host a series leading up to the event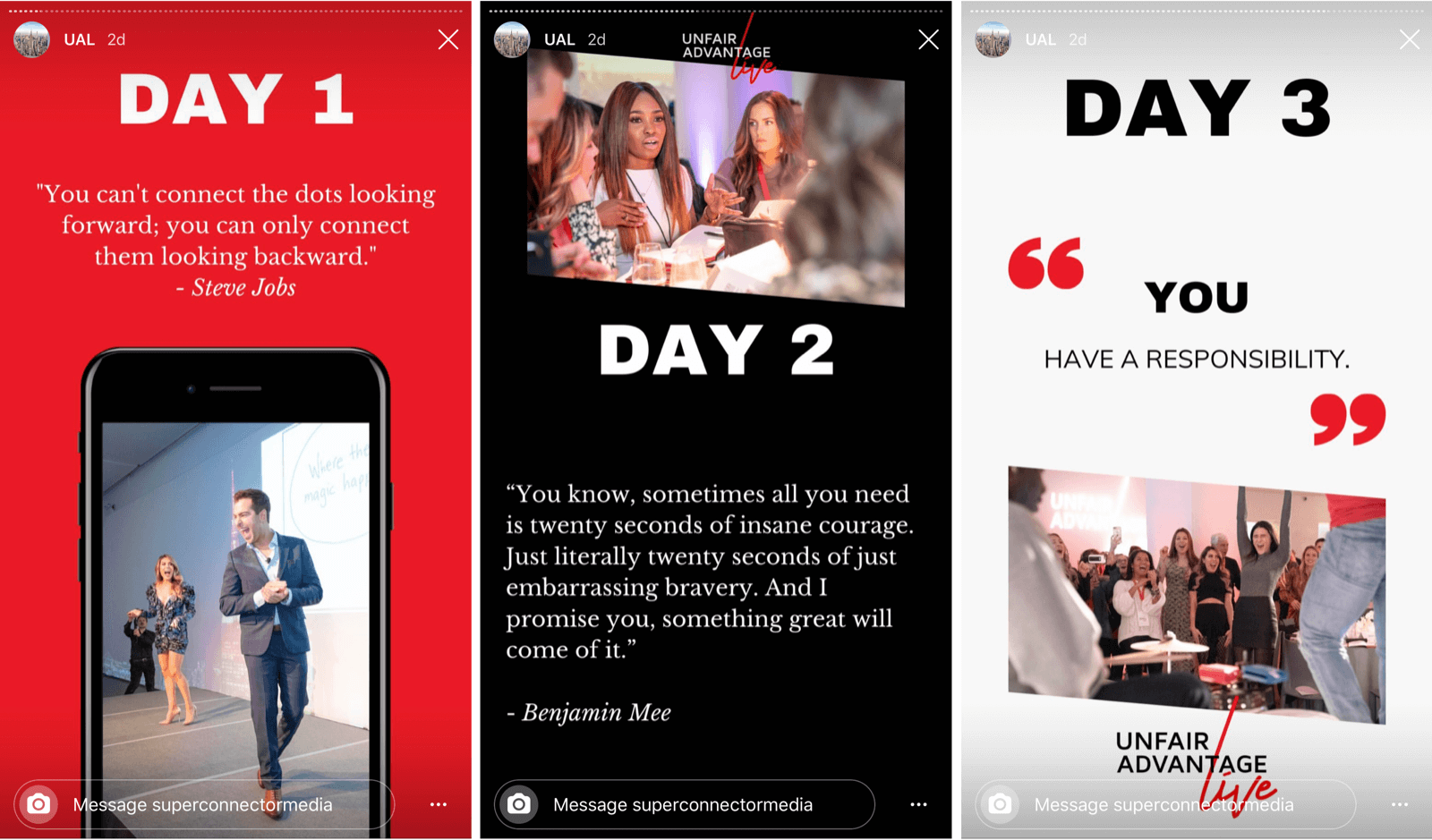 You can further build anticipation for your event by hosting an Instagram Live series.
These series allow you to build a stronger connection with the community or followers you want at your event. The series could be in the form of a live Q and A session. Or it could be that you invite guest speakers or vendors to give a sneak peak of what is to come at the event.
When the Live sessions are over, you can repurpose them as IGTVs.
Track Registration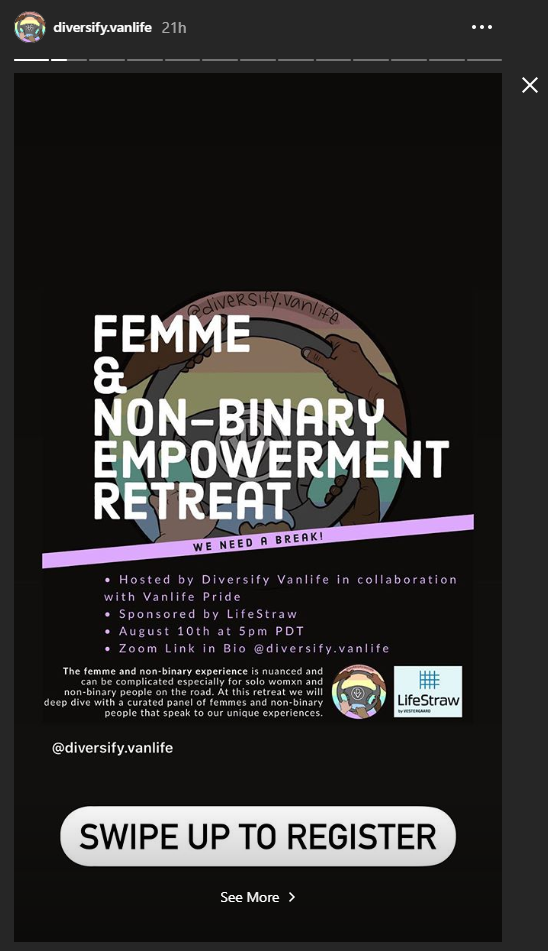 There is no doubt that you want your event to be full of people if it is a physical event. But having more people than you plan for can make an otherwise successful event to soon become forgettable.
That is why you need to track the number of people registering for your event.
Since you are promoting your event on Instagram, the only place you can place your link is in your bio. You can use tools that allow you to track the number of clicks or registrations that come from that link.
This will give you an idea of how much space, food, swag packs and other items that you need.
Create stunning graphics/flyers
It goes without saying that to attract people to your event, you need to create eye-catching graphics or flyers. These Flyers are easy to create when you use tools like Canva or Over.
Another reason why the flyers and posters should be nice is that you want your followers to share it too. They will be more eager to share a good looking poster.
Run Ads
In order to reach more people, you should run ads. And the best part is that you can run the ads straight from your Instagram app.
The ad should contain all the details of the event. If you are not sure about the post to use for your ads, you can always use any post or story that has the highest engagement.
DURING THE EVENT
Use Instagram Live and Stories  Feature
Instagram live allows you to make a live recording of the event for up an hour at the time. You can use this to show your followers who are still undecided about what they are missing out.
Instagram stories are again useful when the event is going on. You can use your stories to show the progression of the event, including the main attractions.
You can as well shoot behind-the-scenes footage.
Display Instagram Wall at Event
Social Media displays is new cool in event industry. displaying your event hashtag and event mentions give you a boost in audience engagement. There are some good social media aggrigators available in market to make this task easy for you.
AFTER THE EVENT
Many attendees will post about your event on their feed. You can gather these posts and repost them on your feed (with their permission).  This makes the attendees feel like they were part of something bigger than themselves.
Tracking the hashtags you created before the event is a great way to find posts from other users.
Reposting the photos and videos from other users also serves as social proof. Other people who did not attend will bite themselves after seeing all that they missed out on.
Post highlights from the event
Post the best bit of your event even after the event is over.
You can post 1-minute videos on IGTV. Create and save story highlights from your story. You can even use the brand new Instagram reels feature.
Tease your followers on what will happen in your next event
While the buzz from your just concluded event is still hot, you can tease your followers on what will happen at the next one.
Help them understand that your new event will be even better because you have collected feedback from the just concluded one.
Conclusion
As you may have noticed, to successfully promote your event on Instagram, you need to do a lot of work before the event starts.
These tips will help you have success with your next event.